Financing options for your customers are available
Despite the challenges faced by Eskom, the South African government may be unenthusiastic to encourage home and business owners to generate their own power. The demand is there and the obvious solutions are available, the dilemma is, South Africans have limited financing options when it comes to installing rooftop solar panels. Other than extending a home loan or taking a personal loan, the average home owner does not have a whole lot of options, or so it seemed.
Banks and financial institutions have responded to this market need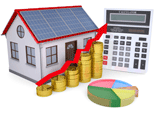 Investec offers finance solutions that that can assist you in financing and developing conventional power or renewable energy generation and transmission.
Nedbank is actively looking at the entire range of renewable energy, from the very basic needs to larger commercial solutions. They are looking at offering a range of financing solutions based on individual customer's needs.
GreenFin pays an approved installer directly and homeowners only start repaying the calculated monthly instalment once the installation is completed and functioning well.
Standard Bank has multiple products to assist customers with financing green and alternative power solutions. Industrial Development Corporation (IDC) offers finance to EPC's wishing to develop or improve renewable energy projects.
Rand Merchant Bank's enables the development of some of the world's largest wind and solar energy projects being delivered under the South African government's renewable energy program
At SegenSolar we support affordable renewable PV energy solutions with a wide range of products, everyday good pricing and system solution discounted packages;.
You can view our special offer packages https://www.lpsi.co.za/product-category/solar/grid-tied-system/